Prep 33 mins
Cook 12 mins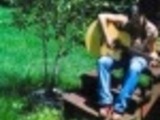 Another favorite from "Towns, Trails and Special Times.....The Marlboro Country Cookbook". These are not your everyday cookies.....peanut butter, oatmeal, chocolate, dates, nuts..........they are more like an incredibly delicious energy bar! A lot goes in to them, but they are worth the effort. Great to carry on a hiking trip or camping. Very hearty and yummy!
Directions
Combine eggs, sugars, vanilla, baking soda, butter and peanut butter.
Add remaining ingredients and mix thoroughly.
Drop by heaping teaspoonfuls onto a greased baking sheet; flatten slightly.
Bake in a 350 degree oven for 12 minutes.
Most Helpful
I was restless this afternoon and in the mood for baking so, encouraged by the reviews, I decided to bake these cookies. The second batch is in the oven, the first one cooling. I was curious if they turned out OK so broke off a piece of one of them and then soon went back to finish it off. They are really tasty, with a glass of milk - just perfect. And no flour! Thank you for this lovely recipe FolkDiva! I will make it again and again.
I didn't have enough peanut butter so I added 1 cp.flour.

Awesome cookies. Eaten right away by my family. All have been surprised that there is no flour! Can be virtually gluten-free if able to find the gluten-free oatmeal. Didn't quite make it in time for ZWT5, but did get it in for two vacations. Thanks so much for posting!!!!