Big Chocolate Chip Cookies
Pam-I-Am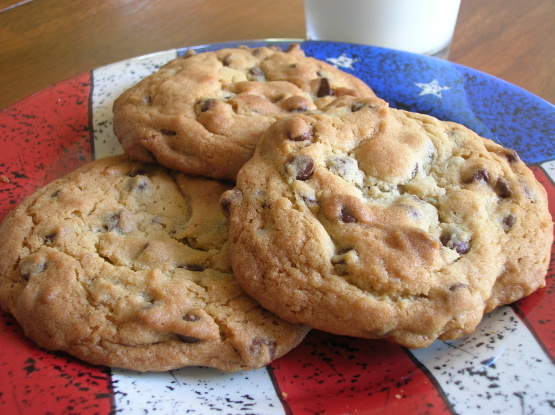 These turn out big, like the kind you find in bakeries. I've also added peanut M&M's for a more special cookie.

I made these cookies as a treat for my daughter and I have to say that this recipe came out better than any chocolate cookie recipe I have ever tried. The cookies were just the right consistency of chewy and crispy. They were just like bakery cookies! The only thing I might change next time is the amount of vanilla. The taste of vanilla seemed a little too much for me. I like the idea of adding a little almond extract and I'll try that next time. Thanks for a great recipe!!!
Preheat oven to 325°F; grease cookie sheets or line with parchment paper.
Sift together flour, baking soda and salt; set aside.
In bowl of mixer, cream together butter, Crisco, brown sugar and white sugar until well blended.
Add vanilla, egg and egg yolk, and mix until light and creamy.
Add the flour mixture until just blended.
With a wooden spoon mix in chocolate chips and walnuts.
Drop dough by the 1/4 cup, about 3 inches apart.
Bake 15-17 minutes or until the edges are lightly browned.
Cool a few minutes on cookie sheet before transferring to wire rack to cool completely.