DuChick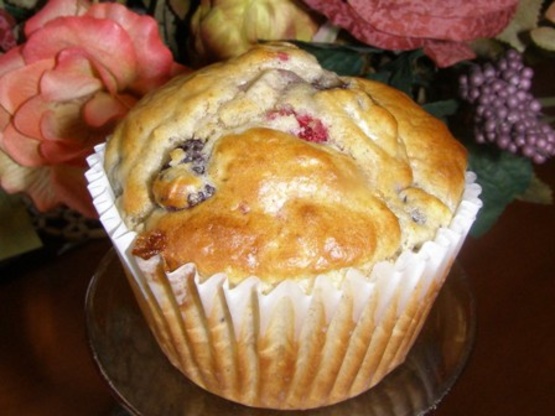 A large tender berry packed muffin that is on the lighter side but with all of the taste! Use a medium to large muffin pan and fill cups 3/4 full.

Very lovely muffins! I took a few liberties with the ingredients, but I think it had little impact on the final product. I made my own buttermilk (skim + lemon juice), used 2 whole eggs rather than Egg Beaters and subbed half of the oil with natural applesauce. The only thing we noticed is that we prefer a sweeter muffin and next time I'll try adding 3 T. regular Splenda, along with the brown sugar blend. Each muffin rose beautifully and melted in our mouths. Thanks TaterBug!
Preheat your oven to 400. Line your muffin pan with cupcake papers or grease cups liberally.
In a large bowl, whisk together oil, buttermilk and eggs. In a seperate bowl, whisk together dry ingredients. Add the dry mixture to the liquid and stir until just combined. Gently fold in the berries.
Fill each muffin cup to 3/4 full.
Bake the muffins in the preheated oven for 25-30 minutes or until golden brown and tester comes out fairly clean.