Big and Thick Buttermilk Biscuits
Annacia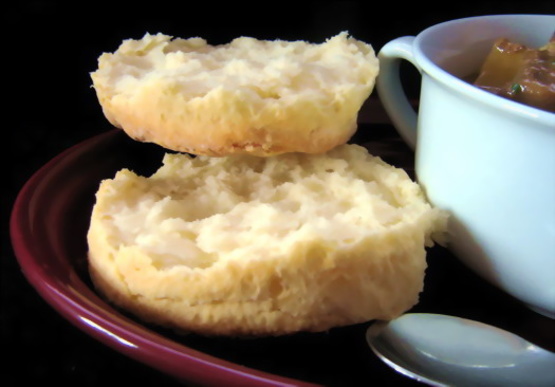 These biscuits are very thick and rich. Very easy to make. Wonderful for Sunday breakfast. Makes 6 large biscuits or 8 medium.

Wonderful biscuits in the end. However, let me add that you need to add that extra cup of flour with the 1 lb (I used 2, 8oz measuring cups to get the 1 lb) because it's like waffle batter without it. So, go ahead and add the extra 1 cup at the very start and still keep extra at hand the kneading and shaping. I didn't really want a 9x13 pan of biscuits so I cut rounds from the dough with the cutter that I use for making shortcakes for dessert and I got 7. Lastly, set you oven higher than 350. I baked them for 20 mins and they were drier but pasty flour white and nowhere done, 5 mins more- same, 5 mins more- turn the pan and 5 mins more, I reset the oven to 375 and gave them another 7 mins. YAY, they were softly golden and baked to perfection. The end result was truly one of the best biscuits I have ever had! Wonderful flavor and soft texture. The only reason that I haven't given this recipe 5 stars is because of the discrepancies in the recipe and the actual working of it.
In a large bowl mix flour with the shortening. (I like to use my hands). Pour in the Buttermilk. Use a spatula or spoon to blend.
Once mixture is firm, (If mixture is still liquid add a little more flour -about 1/2 a cup) use your hands to knead and fold until the mixture forms a firm dough.
Place the dough on a floured cutting board or hard surface. Roll out dough and eventually put into the 9x13-inch baking pan. Press dough into the edges of the pan so the dough is laying flat and even across the pan.
Use a butter knife to cut 6 or 8 even squares into the dough. Make sure to leave half an inch of space between each square. Bake at 350°F for 15 - 20 minutes or until biscuits are slightly golden brown.
Melt butter either in a sauce pan or in the microwave. Drizzle melted butter on top of the hot biscuits. Serve with jam, honey or peanut butter (my husband's favorite).