3 Reviews
This is an excellent way to quickly cook delicious pork cutlets. For easy preparation, I recommend purchasing a jar of pimento paste (Carne de Pimento Choricero by Rajope), and increasing the amount of pimento paste to 1 3/4 tsp (3/4 tsp in the marinade, 1 tsp in the sauce). For an excellent paprika flavor, use 1/4 tsp sweet paprika in the marinade and 1/4 tsp smoked paprika in the sauce.I also use bacon fat to fry the pork cutlets instead of lard. Recommended amounts of salt/pepper: 1 tsp kosher salt and 1/2 tsp freshly ground black pepper. This dish goes extremely well as a main course accompanied with black beans and steamed artichokes.

very tasty and very morish which fills even the biggest appetite
Excellent meal or snack. I use beer instead of the wine and I find it has a better taste. But both ways are good. Thanks.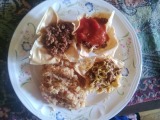 Bifana (Portuguese pork cutlets)