Bierochen (German Cabbage Burgers)
MommaMac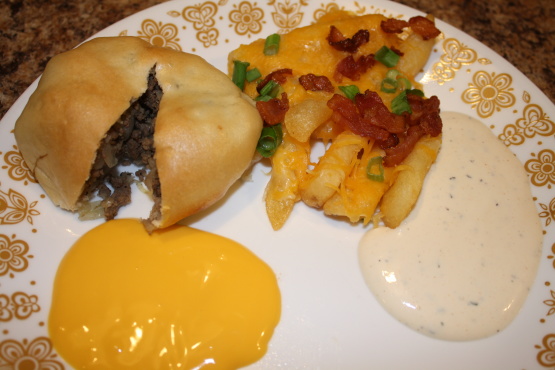 Bierochen...so so yummy! You will not be able to eat just one! Serve with a salad and you've got a complete meal!

These turned out great! I added more seasonings because we like things spicy. I added oregano, garlic, hot pepper and some dry Ranch dressing mix along with some shredded cheese. What a good idea to use those frozen rolls. I reheated one in the microwave the next day for 20 seconds and it was delicious. I had plenty left over so I wrapped them individually and put them in freezer bags so I'll have them for my lunch sometime. The fillings would be endless for these little bundles. I defrosted the rolls in the morning for use at dinner that night and they were fine. They are a little time consuming. I suggest you make these up about an hour in advance so they can rise a little and you can clean up the mess before dinner. These would be a great party food, too. Thanks for the recipe.
1

lb ground beef

1

large onion, finely chopped

3

tablespoons butter

1

(12 1/2 ounce) package frozen dinner rolls (thawed overnight)

1

head cabbage, shredded
salt and pepper
additional melted butter
Preheat oven to 375°F.
Melt butter in skillet.
Add beef, cabbage, and onion.
Cook until cabbage is nearly done-- DO NOT BROWN.
Drain, add salt and pepper to taste.
Roll out, (with pin), each dinner roll.
Place 2-3 heaping tablespoons of cabbage mixture on each roll.
Bring corners together and pinch shut, (reforming the roll).
Bake at 375°F for 20 minutes or until brown.
Brush tops with melted butter as the rolls cool.