Bhindi Bhaji (Fried Stuffed Okra)
Prep 15 mins
Cook 15 mins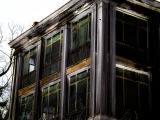 Has a subtle flavor enhanced by the spices here. Serve as part of a vegetarian meal with dal, rice bread, raita and chutney, or even still just as a side dish.
Directions
In a small bowl combine the chili powder, turmeric, coriander, and salt.
With a sharp knife, cut lengthwise slit in each okra pod, taking care not to cut completely through.
Stuff each pod with a little of the spice mixture.
In a medium saucepan, heat the oil over high heat.
Add onions and cook, stirring constantly, 12 minutes, or until browned.
Reduce the heat to low and add the okra.
Add the water if the mixture seems to dry.
Cook covered 10 minutes, or until the okra is tender but still retains it's color.
Serve garnished with fresh coriander and lemons.
Most Helpful
This recipe is so simple and quick to make. I served it with rotis. Thanks for sharing.
I didnt know how to edit my earlier review so am posting another one. I also add grated ginger and garlic to this. Inorder to avoid the hassle of trimming and chopping okra, I use frozen okra. I microwave it for about 5-7 minutes before adding it.
I adore okra, I adore this recipe, and I adore Grovinchicken for posting it. Superb flavor. The most unusual okra recipe in my collection and maybe, the best.