SharonChen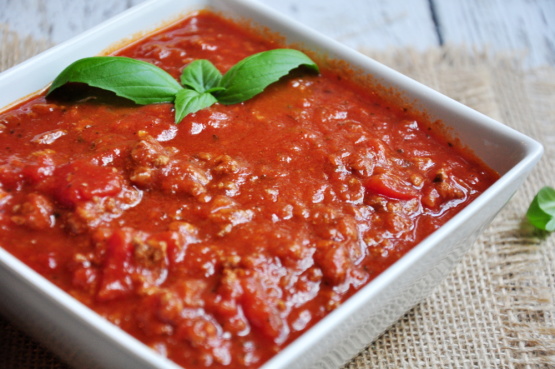 This is a recipe I have developed over a number of years. This is the only spaghetti sauce my family will request! Very easy to make. I hope your family enjoys it as much as mine does!

Different people look for different things in a spaghetti sauce. In fact, your spaghetti sauce says alot about you as a person. This is undoubtedly the best spaghetti sauce I have ever had! It is full-bodied but balanced. It is meaty yet the meat does not overwhelm the flavor. With a sprinkle of parmesan, a french baguette and a red wine on the side this sauce creates the perfect evening! I'm love this chef!!
Brown the ground beef, onion and garlic in olive oil with bay leaves, oregano, basil, Italian Seasoning, salt and pepper.
Add tomato paste, tomato sauce and diced tomatoes.
Stir well and bring to a simmer over medium heat.
Cover and simmer for 1 1/2 hours.
Use sauce to top your cooked spaghetti.
Top with sauteed mushroom.
Pass the Parmesan.