Bevs Hot and Cheesy Tuna Quesadillas to Die For
Crispy tortilla stuffed with cheese and spicy tuna, a fast and inexpensive recipe that my husband loves and you will too. I was looking for a low calorie recipe and did some experimenting and used ingredients from my mother's hot tuna melt.
Directions
Put the ingredients on 1/2 of each tortilla.
Divide the tuna between the 2 tortillas and sprinkle with the dry mustard.
Divide the green onions and the tomato slices and put on top of the tuna Sprinkle each with 1/2 cup cheese.
Fold each tortilla over and grill on both sides until lightly toasted and crispy.
Most Helpful
YUM! I really liked this quesadilla. I wasn't sure of the dry mustard but I really couldn't tell it was in there. This is a very delicious and different take on a tuna melt. Thanks for sharing the recipe! Made for Bargain Basement Tag.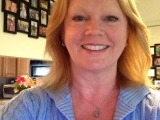 I made this today in my small Foreman grill. It was easy but I won't rate it since I'm not a tuna lover and I made some changes due to preference and necessity. Hubby's was made with vegan mozzarella but I didn't taste it. I chose cheddar. Also omitted the onions but added chopped olives. It was just OK for me. Since tuna isn't a fave...I'll keep looking for something with more seasonings that hide the flavor!