This came from my friend Bev on the IBS boards. She says this is her family's absolute favorite way to make salmon. I can't wait to try it! Prep time includes time to marinate.
Directions
Combine syrup, Worcestershire sauce, and lemon juice in Zip-Loc bag; add filets and marinate for about an hour, turning fish.
Fire up the grill and toss on the filets; cover with aluminum foil.
BBQ until fish is done and layers "separate," turning once.
Serve with lemon rice (or anything you prefer!).
Note: The recipe doesn't specify, but I would recommend trying this on medium heat for about 5 minutes per side; use your discretion!
Most Helpful
I thought this was good but not excellent. I might try it again with a different type of maple syrup (I did use the real stuff but it was very light in color and perhaps not as potent.?) I did love the recipe's simplicity! Thank you for posting. I'll let you know if I get a different result when I try it again. :-)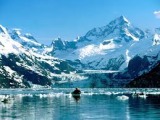 I am not a huge salmon lover - but I like it with this marinade. It takes away the fishiness completely.
This salmon was a hit in our house. The marinade was flavourful and yet light enough to compliment (without overwhelming) the salmon. I brushed the filets and the grill with oil (to prevent sticking) before grilling them 2.5 minutes on each side (per 1/2 inch).