Bev's Classic French Vanilla Ice Cream
PaulaG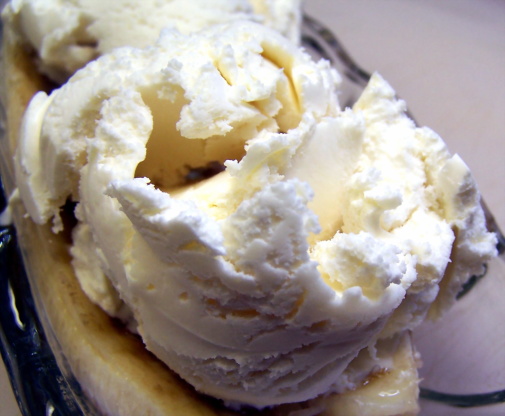 After doing a thorough seach, I decided to come up with my own recipe for vanilla ice cream. After all, ice cream is an important base for serving my mom's chocolate sauce :) My results turned out an ice cream that is not only rich in flavor, but creamy and smooth. If you are a fan of rich, creamy and smooth - you are going to like this -- especially when paired with Lee Lee's Famous Chocolate Sauce for Ice Cream (Lee Lee's Famous Chocolate Sauce for Ice Cream) I hope you enjoy this!

This was okay as published, but I made some changes and got a result I liked better. "Classic" French vanilla means using a vanilla bean when the milk/cream is heated, or at least adding some vanilla bean paste, in my opinion. I want to see those little black specks and have the fresher taste of real vanilla. The more common way to do this is to heat the milk/cream first with the split and scraped vanilla bean in it. Bring to a boil and then simmer for about 20 minutes. A few grains of salt (a VERY small pinch) bring out all of the flavors. Take the milk off the heat, take out the vanilla bean pod, and pour about half of it -- slowly -- into the bowl that contains the well-beaten egg and sugar. Mix well and add back into the remaining hot milk and cook over low to medium heat -- stirring constantly -- until thick enough to coat a metal spoon. Then chill thoroughly before churning. <br/><br/>Second, I think it's too sweet. I liked it better with 1/2 cup of sugar (and the same amount of Splenda also works). As far as being too "eggy" as one reviewer described it, I thought it wasn't eggy enough and added an additional whole egg. Probably just another yolk would do. Mainly, I think you should skip the extract and go for real vanilla.
In a saucepan, beat egg yolks with whisk; add sugar and continue beating until thick.
Stir in half and half; heat and stir until thickened.
Remove from heat and cool.
Stir in heavy cream and vanilla extract; cover and chill in refrigerator an hour until needed.
Pour into ice cream maker and process according to your machine's direction.
Makes about 1 quart.