Beverage Gang Dedication Shrimp, Pasta, and Asparagus Supreme

This is dedicated to the Beverage Gang as they have inspired me to use more spirits in my cooking. I like that I have to sample the spirits to make sure they are just right for the cooking. :-)
Directions
In large skillet, heat oil and 2 Tbsp butter to melting, add in onions, garlic, celery, cook 4 min.
Add in 1 c wine and simmer til reduced by 1/2.
Add in shrimp and tomatoes with green chilis and incorporate, heat through 3-4 minute.
(if shrimp is uncooked, cook til pink in color).
In the meantime, have a 4 qt pan heating water with a pinch of salt, once boiling add in pasta, cook 4 minute Then add asparagus and stir. Cook til al dente. about 4 minute.
Drain pasta and asparagus return to pan. Add in parmesan cheese and stir, pour into Casserole pan or Pasta plate. Then pour shrimp and veggie mix over top and serve.
Served with a crusty tomatoe basil bread. (will post soon)and a Shiraz wine. YUMMY.
*** cook time is overlapped as pot of water is cooking as you are making shrimp topping.
Most Helpful
I substituted red bell pepper for the celery just because that is what I had. Used 1 tablespoon butter and 1 tablespoon oil, dried basil and added it just before adding the pinot grigio when I added the tomatoes. Adding the asparagus when the pasta had 5 minutes of cooking and tossed to blend all together for 2 minutes. And added the shrimp. And when the pasta was done mixed it with all the yummy ingredients tossing in with cheese and garnished with fresh basil. We enjoyed this healthy meal. I wish you posted your bread. I was looking for it! Let me know when it posts.

Fabulous recipe!!! We loved this. Perfect for a Spring dinner. I would definitely serve this to guests. I used a 10 oz can of Ro-tel, omitted the celery and halved the parmesan. We loved the hint of spice, the fresh asparagus and the pasta mixed with parmesan. Yum! This is going into my best-of-the-best file. Thanks!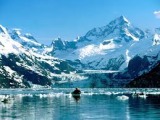 Have made this a few times. No celery. Very good base recipe to use as is or tweak according to what you have on hand. Using the Rotel-type tomatoes is a great idea and adds a nice amount of spice. I preferred the onion thinly sliced. Thanks for a nice recipe!