Betty's Italian Dinner for 2
Leslie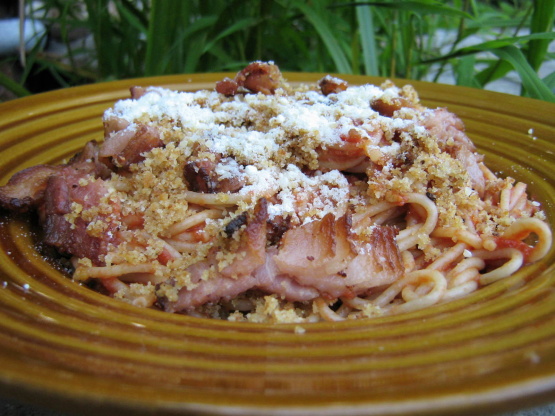 My sister Betty sent me this recipe and I promised her I would submit it. It is different, with the bacon in the sauce.

This dish is a tasty, fast + easy-fix & very satisfying. I esp like that it serves 2 as I am more fond of pasta dishes than DH, so I opted to treat myself & make it for my lunch today & likely the next 2 dys. I made it as written, adding only garlic (a must for me). I see mushrooms as a good add, but it does not really need them. Thx for sharing this recipe & congrats on your Wk 10 Football Pool win. :-)
In skillet, fry bacon and onion together until onion is tender. Add butter, tomato sauce and salt. Simmer 4-5 minutes. Pour over cooked and drained spaghetti.