Betty White's Chicken Wings
lets.eat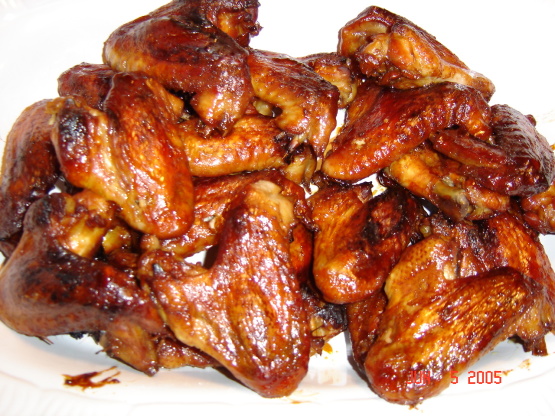 From my celebrity recipe collection; they sound perfect for a football party! The smell while these sticky wings bake in the oven is amazing.

Top Review by yooper
This must be the "Sue-Ann Nivens" side of Betty White, not the "Rose Nylund"! These are awesome wings! I used a 3 lb package of the frozen "drummettes" and it worked out perfect! Sweet and slightly salty...a nice change of pace from the "hot" buffalo wings everyone else serves...and you don't need a dippping sauce to cool your mouth down!
Arrange wings in shallow baking pan.
Heat butter, soy sauce, sugar, water mustard and garlic powder if using, until butter and sugar melt.
Cool; pour over wings and marinate at least 2 hours, turning once or twice.
Bake in same pan at 375F for 1-1/4 to 1-1/2 hours, turning occasionally. (Use the plumpest chicken wings you can find; if your market only has the normal scrawny ones, don't cook longer than 75 minutes)
Drain on paper towels and serve.