Betty Mayfield's Beef Casserole
Pamela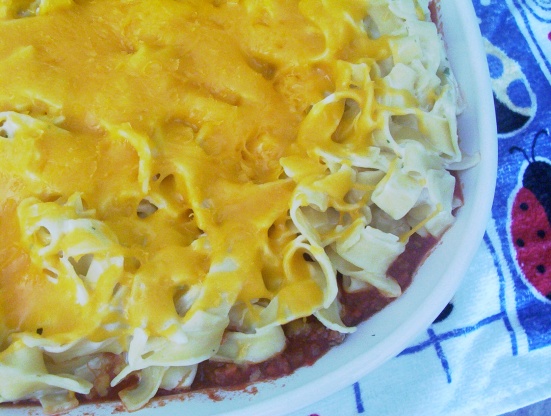 My sister and I used to request this recipe often. Mom never seemed to make it often enough... we loved it! I'm not sure where my Mom got the recipe, but I think Betty Mayfield was a past Miss America? Not sure!

Top Review by podapo
This is a great "comfort" food. Reminded me of a childhood dish that I can't quite place... Yummy..
Brown ground beef; drain.
Add salt, sugar, tomatoes, tomato sauce, garlic and pepper.
In a mixing bowl, combine cooked egg noodles with sour cream, cream cheese and green onions.
In a greased 3-quart casserole dish, arrange meat mixture and noodle mixture in alternate layers.
Top with cheese.
Cover and bake at 350F for 35 minutes.
I serve this casserole with a fresh salad and hot garlic bread!
Enjoy!