Betty Crocker's Tex-Mex Scrambled Eggs
Bergy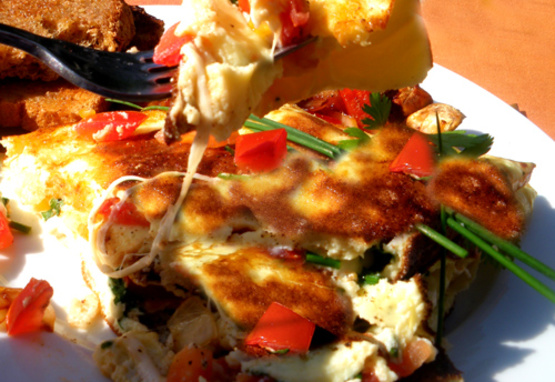 This recipe, probably slightly adapted, is from a Betty Crocker cookbook. This is quick and super delicious.
Cut each tortilla into 12 wedges.
Heat oil in a large nonstick frying pan until hot.
Add the tortilla wedges and stir until crisp.
Reduce heat.
Add the green onion and stir for one minute.
Pour the eggs over the tortilla mixture.
As the eggs begin to set on the bottom and sides, gently lift cooked portions with spatula so that the thin uncooked portion can flow to the bottom.
DO NOT STIR.
Sprinkle with cheese and let it melt.
Top with tomato.
Sprinkle with the fresh chopped cilantro.
Serve at once.