Betty Crocker's Sugar Cookies
gailanng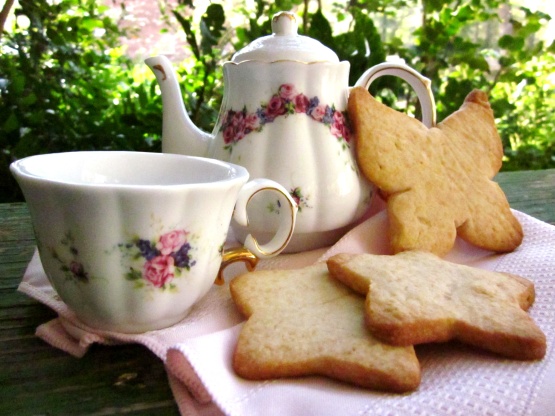 I have been making these cookies every year for Christmas since I was in high school!! I roll them really thin so they are crispy, not soft/chewy and only add sprinkles. This recipe is for a double batch, but can easily be divided. **Chilling dough not included in prep time**
Cream together butter, sugar, eggs, and vanilla.
In a separate bowl combine flour, baking powder, and salt.
Gradually mix dry ingredients into the butter/sugar mixture and stir until incorporated (can be done by hand, but I use a stand mixer).
Cover with plastic wrap and let chill in fridge until cold (approx. 1 hour).
Preheat oven to 400 degrees F.
Roll out approximately 1 1/2-2 cups of dough at a time (or whatever amount you have room for on your workspace).
Cut cookies with seasonal cookie cutters.
Place cookies on parchment-lined cookie sheets for easy clean up.
Sprinkle with colored sugar sprinkles.
Bake 6-8 minutes or until edges turn golden brown.
Cool on wire rack and store at room temperature in an air-tight container.