gailanng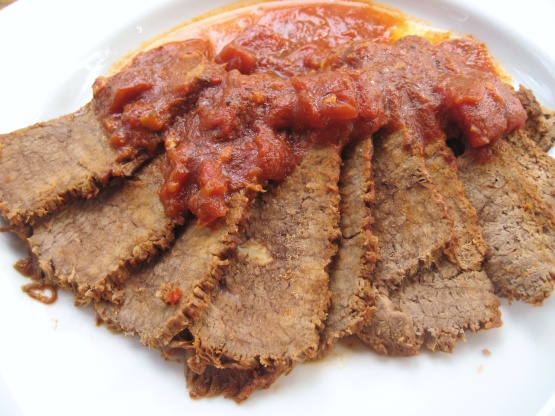 A slow cooking recipe from one of my Katrina evacuee crowd from New Orleans.

Mama mia! How has this recipe has gone unnoticed since 2005 except from one chef? It's almost identical to the daube I've made for the last 30 years with the exception of the addition of wine. I used a rump that I hand on hand and studded it with two of the eight garlic cloves. The entire 8 cloves can easily be used for they mellow beautifully with the long cooking time.
Heat oil until hot in a dutch oven large enough to accomodate the roast.
Season the trimmed beef with a little salt and pepper.
Place the roast in the dutch oven and sear the roast on both sides (be careful not to burn yourself as the oil can splatter).
Once the roast is browned on both sides, turn down the heat and add the garlic (I know it sounds like alot), parsley, baf leaf, thyme, tomatoes, tomato paste and red wine. Cover with water.
Cover and cook for one hour and check for liquid level. The roast not be dry, if so, add more water until it is covered, check again in anohter hour for tenderness. Again, if the roast is dry, add water to cover. The roast should be finished cooking and fall apart tender in a sauce in 3 hours.
Serve with spaghetti.