Better-than-storebought Mozzarella Sticks
Lacy S.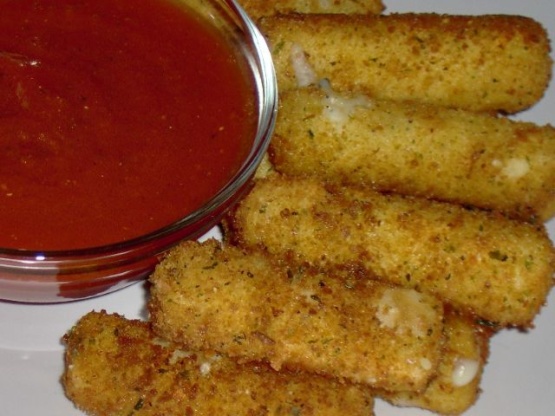 You'll never buy frozen mozzarella sticks again! These are easy and absolute delicious with none of the unhealthy additives of the commercial kind. I serve these with my own Angie's Bella Marinara sauce (with the spices punched up a little), but these would also be good with a creamy ranch-style dip. Vary the herbs in the breading if you like, but I like this combination with the marinara sauce.

Wow! These were so easy!! Not to mention extremely good. I made one exactly as you posted and the cheese just melted into a blob in the oil, the breading had hole in it. Soooo... I took a piece of the cheese dipped in egg mixture, then in the flour mixture, back in the egg mixture, then into the bread crumb mixture. I placed all of them on a wax paper covered cookie sheet and placed them in the freezer for about 15 minutes. Then I took them out of the freezer and cooked them in the oil for about 30-45 seconds. Then turned out great!! Thanks for posting!
In a small bowl, combine egg and water.
In a separate bowl, combine bread crumbs, garlic salt, oregano and basil.
In a third bowl, combine flour and cornstarch.
In a large heavy saucepan, heat oil to 375 degrees F.
Moisten each mozzarella stick half in the egg mixture, then dip each one in the bread crumbs and finally the flour mixture.
Repeat this 3-step process.
By now your fingers are going to be a total mess; just hang in there, it's sooooo worth it!
Carefully place breaded mozzarella sticks in the hot oil; don't overcrowd (only about 4 at a time).
Fry until golden brown, about 30 seconds.
Remove from oil with a slotted spoon or tongs and drain on paper towels.