Better Than Sex Aka Texas Dessert
CindiJ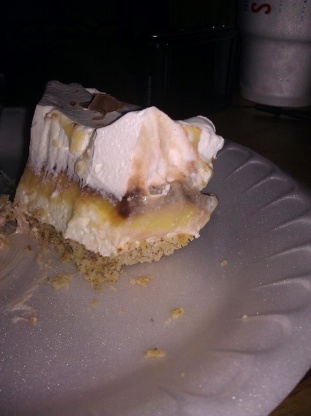 This is my husbands favorite birthday dessert. A friend gave my mother this recipe years ago. I've known it as Texas Dessert, Better Than Sex, As Good As Robert Redford plus a few more that cannot be posted. Great for Valentines Day too! For extra richness, use French Vanilla Cool Whip.

This is my hubbys fave dessert. We omit the vanilla layer- just do chocolate. We call it Chocolate Delight. I will have to try w/both puddings next time. Thanks for posting !
Mix together in processor the flour, chopped pecans and butter.
Spread into 9x13 pan and bake 15 minutes at 350º.
Let cool completely.
In medium bowl mix together cream cheese, powdered suar and cool whip.
Mix well; spread over cool crust.
Prepare Vanilla Pudding using only 1-3/4 cup milk.
Spread over cream cheese layer.
Prepare Chocolate Pudding using only 1-3/4 cup milk.
Spread over Vanilla Pudding layer.
Top with remaining cool whip.
Grate Hersheys Chocolate Bar over the top (I like to mix the Dark Chocolate& Milk Chocolate).
Sprinkle with Chopped Pecans if desired.
Cover.
Chill overnight.