Better Than Paula's Taco Soup
Bev I Am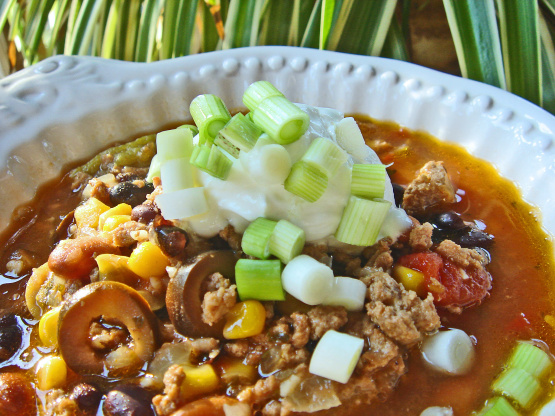 Don't get me wrong...I love Paula Deen! I just took her original recipe and made it my own. My brother and SIL love this over rice. PLEASE NOTE: You will need a 6-quart crockpot to make this recipe as posted. It makes a lot of soup but it freezes very well.

Yes! This recipe has everything - protien, fiber, veggies, and it is delicious and pretty healthy. I like the recipe also because it uses ground turkey and the crockot. I added 1 1/2 cups water so it would not burn.
Brown the ground turkey in 2 T extra virgin olive oil.
Place turkey in the bottom of a large crock pot.
Add onions, beans, corn, garlic, tomatoes, chiles, jalapenos, olives, taco seasoning and ranch mix.
Mix well and cook on Low for 6-8 hours.