Better Than Fried Jalapeno Poppers
Tam454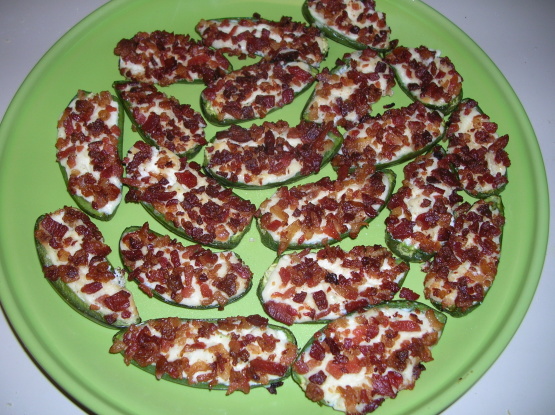 Like the title says, better than fried poppers! The ranch seasoning in the cream cheese is the twist. They are a real crowd pleaser. Took them to a BBQ once that was poorly lit, one of the guys replied "These are my favorite!" and downed one in one bite. As he bit into it, the look on his face was quite surprised - he thought they were potato skins. He did confess that after he realized what they were - he couldn't stay out of them.
6

jalapeno peppers

8

ounces cream cheese, softened

1

teaspoon uncle dan's original ranch dressing mix
fully cooked bacon, crumbles (like Hormel)
With gloves, snap off the top cap and stem and with a small knife slice peppers in half lengthwise. Carefully take a teaspoon and scrape out seeds and membranes leaving the top intact so filling will not bake out of it.
Mix cream cheese and dry ranch mix with a hand mixer on medium speed. Fill each pepper with the cream cheese mixture level to the top of the pepper.
Put bacon in a shallow bowl and press each cheese filled pepper cheese side down into the bacon and remove excess. Place on a foil lined cookie sheet.
Bake 420 degrees for 20 minutes. Serve hot or cold.