Better Than Bubbe's Matzo Ball Soup
Ingy1171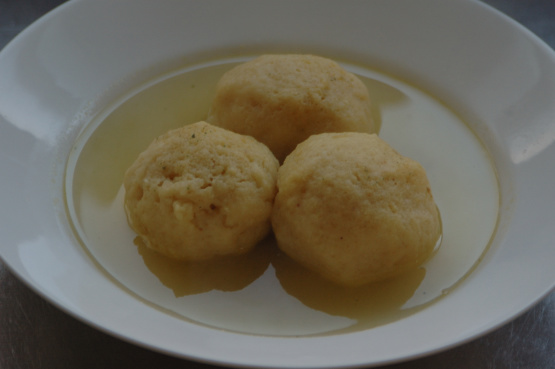 A rich, flavorful chicken soup with light, fluffy matzo dumplings. A traditional Passover favorite.

Excellent and authentic! I love the lemon zest and dill in the soup. I put all the carrots in while cooking the broth, then fished out the carrots used in cooking the broth and put them back into the finished soup, because I knew my husband would like the super-soft carrots because that's the way his mother made her matzoh ball soup. I made this using a bunch of chicken backs/necks I had been saving in the freezer, so I didn't have a lot of chicken meat in my soup, but it was still great because the broth was so good, and the matzoh balls were the star. I made the broth the day before and refrigerated so the fat separated and I could remove it easily. Otherwise, I would remove the fat with a gravy separator.
Soup

1

(5 -7 lb) roasting chickens (fat in cavity reserved, cut into pieces)

8

carrots, about 1 pound, divided

6

parsnips, about 1 pound, divided

2

stalks celery, cut into 2-inch pieces

1

large onion, diced

1

head garlic, loose papery outer skin removed, cut in half crosswise

1

bunch parsley

2

teaspoons chicken bouillon granules

1

bay leaf
1⁄4 cup chopped fresh dill

1

teaspoon grated lemon zest

1

teaspoon salt
1⁄2 teaspoon pepper

Matzo Balls

enough chicken broth or water for cooking the matzo balls

4

tablespoons schmaltz (Rendered ahead with carmelized onions and fat from previous chicken recipes.)
1⁄4 cup seltzer water, divided

4

eggs

1

teaspoon salt
1⁄4 teaspoon pepper

1

cup matzo meal
In pot over high heat, combine chicken with 5 quarts water or enough to cover. Bring to a boil, skimming foam as needed; reduce heat to medium-low. Meanwhile, cut half the carrots and parsnips into 2" pieces. Halve the remaining carrots and parsnips lengthwise. Cut into 1/2" pieces; set aside. To soup add celery, onion, garlic, and reserved large carrot and parsnip pieces; simmer 1 hour. Add next 4 ingredients; simmer about 30 minutes. Strain, reserving broth and chicken.
Discard skin from chicken. Pull meat from bones; cut or tear into bite-sized pieces. Return broth to same pot over medium heat; add remaining carrots and parsnips. Simmer until vegetables are almost tender, about 10 minutes. Add chicken; heat well, about 5 minutes. Stir in last 4 soup ingredients. Cover; set aside.
Meanwhile, in a skillet over low heat cook reserved chicken fat, stirring occasionally, until melted and solids begin to brown, 30 minutes. Strain fat, discarding solids. Measure melted fat; add enough vegetable oil to equal 1/3 cup, if necessary.
In small pot over medium heat, combine schmaltz, eggs, salt, pepper, and seltzer . Stir in matzo meal. Cover; refrigerate at least 30 minutes.
Fill skillet halfway with water or chicken broth. Place over high heat; bring to a boil. Reduce heat to medium. With lightly moistened hands, shape tablespoonfuls of matzo mixture into balls. Gently add to simmering water or broth.
Cover; simmer until all matzo balls are cooked through, about 20 minutes. using a slotted spoon transfer matzo balls to soup. Let stand 15 minutes to allow matzo balls absorb flavors of soup. Reheat, if necessary, and serve.