Better Rutabagas (With Cheese)
Boomette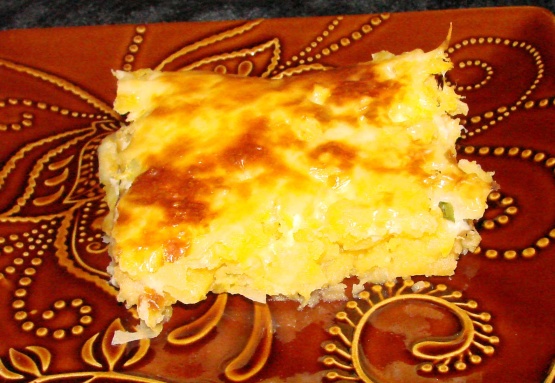 I received rutabagas in my CSA box this week. I'd never had them before, but a friend told me I could cook them like mashed potatoes. So I peeled, boiled, and mashed them with butter, salt, and pepper. And took a taste... I was pleased to find they tasted a bit like smashed cauliflower, with a similar texture. And they hinted that what they really needed was onion and cheese. Here's how I made them:

This turned out even better than I expected. Rutabaga was a new food for the family this week, as I like to introduce things for the kids (and myself and hubby) to try. This was terrible to cut up... really dense and hard on the old santoku knife. I expected it to be softer like a turnip since it looks like one. Turned out really mild, with a subtle sweetness to it. I did add a bit of sour cream and some shredded bacon to make this a loaded baked "potato" style dish. I'm watching carbs, so this was a fantastic sub for mashed or baked potato with our steaks last night. Thanks for sharing! Going to mix it up with some egg and seasoning and fry it like a potato pancake this morning with breakfast. Won't be scared of the giant purple-ish rooty thing at the grocery store ever again! ;-)
2 -3

medium rutabagas, peeled and cut in 1-inch pieced

1

tablespoon butter

3

green onions, chopped, white and green parts
1⁄4-1⁄2 cup grated parmesan cheese, divided (cheddar is also good)
salt and pepper
Boil the rutabagas in water until tender. Drain and mash.
Add other ingredients, reserving 1 tablespoon cheese (use more or less cheese depending on how large your roots are, how well you like cheese, and how well you like rutabaga!) and combine thoroughly.
Place in shallow baking dish, sprinkle with cheese, and bake at 350F until cheese on top is toasted.