Better for You - Soft Molasses Cookies
mich26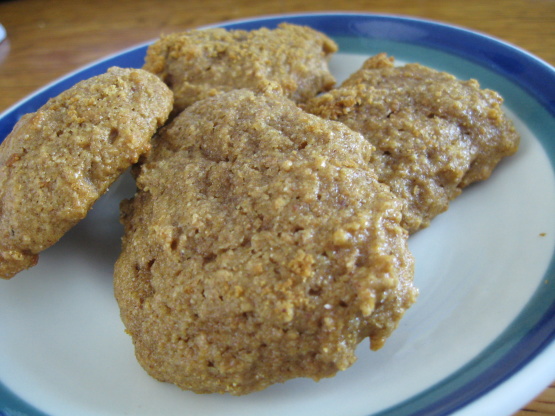 This was adapted from the Soft Molasses Cookie recipe, #63981...I fell in love with that cookie, along with the rest of recipezaar...and since I was eating these weekly I felt like I needed to make them a bit more healthy. The result was AWESOME - The cookie now stays a little puffier yet still chewy. The wheat flour is a nice addition I used 1/2 regular whole wheat flour and 1/2 pastry whole wheat flour - actually giving it more taste...If anyone can figure out how to cut down the butter - let me know!! Hope you like!

Top Review by J-Lynn
I made these and took them along on a family vacation, and everyone gave them rave reviews! I left out the nutmeg, which I can't tolerate. They turned out perfect, not too strong on the spice side. You can taste just the smallest tang of baking soda, like you do in snicker doodles. Delicious! Updated review: Even for a 'healthier' cookie, these are sooo good! I think 3/4 cup butter is a lot for a healthy cookie, so I wanted to sub 1/4 cup this time. I used apple and orange pulp from my juicer. The cookies are WonDerFull! I don't taste even a hint of fruit, and they are not rubbery like when I substitute applesauce.
Preheat oven to 350 degrees.
In small bowl combine flour, salt, baking soda, 1 teaspoon cinnamon, ginger, allspice and nutmeg, set aside.
In another small bowl combine 2 Tablespoons white sugar and 1 teaspoon cinnamon, set aside.
In large bowl, cream brown sugar and butter, stir in egg whites and molasses.
Fold in flour mixture, adding more flour if necessary to reach a scoopable consistency.
Drop onto cookie sheet using small cookie scoop, or by rolled & rounded tablespoons onto lightly greased cookie sheet or one that is lined with a Silpat.
Sprinkle lightly with reserved cinnamon sugar mixture.
Bake 8-10 minutes.