Bethmaennchen - German Christmas Cookies
djfoosh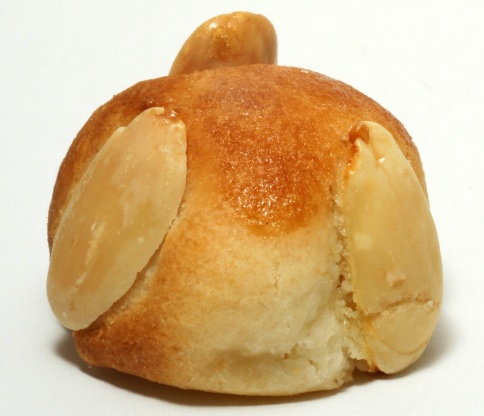 My family first had these yummy almond cookies (pronounced "BAIT-men-chen") when a German exchange student made them for us at Christmas time so she could have a taste of home. She blanched, skinned, and halved the almonds herself, which took most of the preparation time. When pressed for time I have substituted store-bought chopped almonds, but I'm told that that's anathema for anyone who wants the real thing. This prep time excludes preparing the almonds.

Top Review by Jaylee
This is a tasty recipe, and the final product comes out just as pictured. Lovely on cookie trays. I did not imagine that almond and rosewater would go so well together! There are only two modifications I would suggest. First, this recipe desperately needs a bit of salt. It is quite costly to make, and when you taste the nice flavors in the final product -- they are a bit dull and just 'missing' something. As a pretty well rounded cook, I can tell you that you need a pinch of salt to make these flavors pop. I baked them as written, and once I realized it--it was just too late. Secondly, take care with the 15 minute baking time-- I would say honestly more like 10-12 minutes. They burn easily on the bottom without looking like it on top. I used Silpat mats, which protected them further-- so on a metal sheet with no silicone, you might need to start watching around the 8 minute mark.
3⁄4 cup almond halve, plus

2

tablespoons peeled almond halves

120

almond halves, reserved for decoration
3⁄4 cup prepared marzipan, plus

2

tablespoons prepared marzipan (a prepared almond paste usually packaged in logs, available in specialty food stores)

1

tablespoon rose water

7

tablespoons powdered sugar

2

small eggs
3 1⁄2 tablespoons flour
Preheat oven to 350°F.
Finely grind the measured almonds.
Break the marzipan dough into small pieces and mix with one of the eggs, rosewater, powdered sugar, ground almonds and flour.
Separate the remaining egg and beat the yolk, set aside.
Form marzipan mixture into balls the size of walnuts.
Press three almond halves onto the sides of each ball. The almonds should stand up and down and be evenly spaced around the ball.
Brush each ball with the beaten yolk and place on a cookie sheet.
Place cookie sheet on the middle rack and bake 15 minutes until golden brown.