Rita1652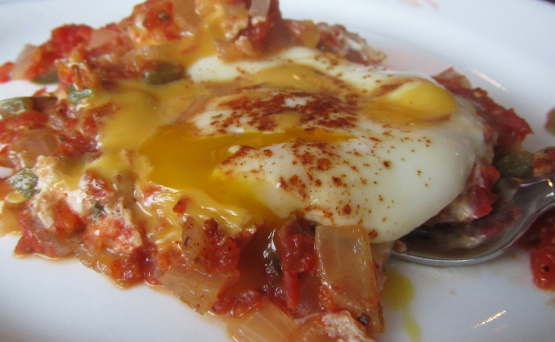 I was craving Huevos Rancheros but didn't have the stuff. So I made this up. The kids loved it so I thought I'd get it submitted before I forgot what I did! We couldn't think of a name so I just named it after myself. ;) I think it would be a nice brunch dish. This of course can be modified to suit your own tastes. This was a bit zippy with only 1 jalapeno. I used preshredded mexican cheese but whatever makes you happiest will work just fine. I might add some hot sauce next time - jalapeno or chipotle.

The only change I did this time was used summer canned pureed tomatoes. A great come back recipe. Thanks again. ;)

Review May 19, 2009 Spicy good! I made 1/2 the recipe. Sauteed button mushrooms with the onions. I served on a tortilla. Thanks for a great breakfast!
Made for ZWT 5.
Saute onion in oil over medium heat.
Add garlic & jalapen;, saute until softened.
Add tomatoes, salt & pepper; Cook until reduced & thick.
Crack eggs into a small bowl & set carefully over tomato mixture.
Sprinkle with chili powder.
Cover & cook on low about 5 minutes or until barely set.
Sprinkle on cheese, cover & cook another few minutes until cheese is melted.