Bestest Ever Banana Bread
Alia55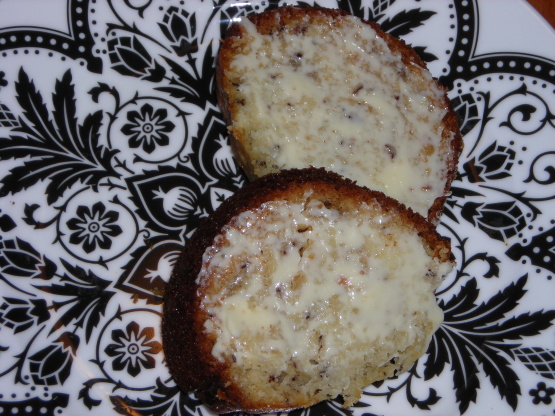 This recipe is so old the paper is yellowed and stained! It's a staple in our house and has been used for muffins, cake or bread. I've added cinnamon, allspice and nutmeg to really spice it up, or chocolate chips and nuts to make a special treat. It's always a huge hit and freezes well. It's moist, light and fluffy. This will make 4 loaves, so you may want to half it. But I like making two loaves and then a bunch of muffins, one loaf will get delivered to a neighbor, the other devoured by the kids and the muffins get frozen and pulled out for breakfast treats.
mix sour cream and baking soda in a bowl, allow to sit and get foamy.
grease and flour pans, and preheat oven to 350.
cream butter, sugar and eggs.
add sour cream mixture, vanilla, salt and bananas, mix well.
slowly add in flour as you mix.
a 9x5 loaf pan takes about an hour to cook and is done when a toothpick inserted in the center comes out clean.