Best Twice-Baked Potatoes
SharonChen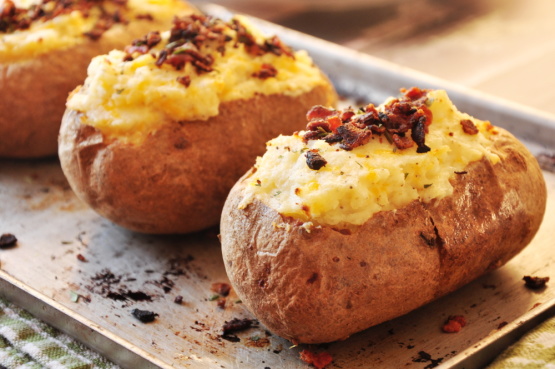 Family favorite - tried and true - the only recipe we use.

Super Good! However, please bake the potatoes initially, rather than microwave. It will make them sturdy enough to contain the goodness without falling apart! Rub with olive oil and kosher salt and bake at 375 for an hour or more until done. Don't overbake or they'll wrinkle. I also used Greek yogurt instead of sour cream and topped them with chives, which makes them healthy, right? :-)
Microwave (or bake in oven at 400 for 1hr) the potatoes until done.
Allow to cool a bit.
Slice about a 1" strip of the skin off the top of each potato.
Carefully scoop out the pulp, placing in a large bowl, and leaving potato shells intact.
Mash the potato pulp along with the margarine.
Add milk, sour cream, cheese, salt and pepper; combining well.
Spoon the mixture back into the potato shells, piling high.
Top with the crumbled bacon or bacon bits.
Bake at 400 for 15 minutes.