teresas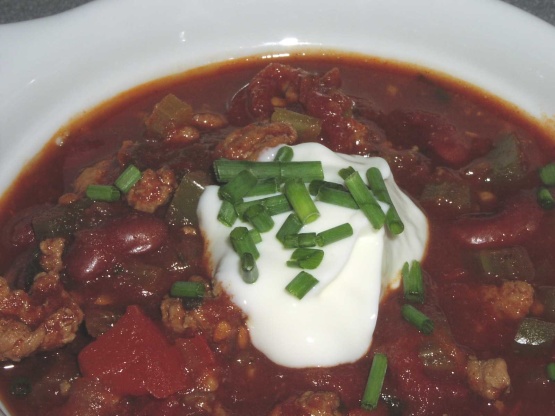 A deliciously spicy lower-fat chili. If you like, add 1 cup of chopped celery with the onions and omit the celery seeds from the seasonings (I don't much care for the texture of cooked celery, so I don't do this). For hotter chili (ouch!), don't seed the jalapenos.

Excellent Turkey Chili! It has 6.5 WW points and makes 4 very large servings. I used red and green bell peppers, left the seeds in the jalapeños for heat, used cilantro instead of parsley and the celery in place of the seeds. Oops, almost forgot but I did use the whole can of kidney beans. Awesome flavor. This is a keeper. Thanks echo echo for posting.
In a heavy pot or dutch oven coated with nonstick spray, sauté garlic 1 minute over medium-high heat.
Add onion and sauté 4 more minutes, stirring.
Add turkey and cook until browned, about 5 minutes, stirring to break up as necessary.
Stir in next 14 ingredients (tomatoes through cloves), bring to a boil, reduce heat and simmer uncovered 30 minutes, stirring occasionally.
Stir in beans and cook 5 more minutes.
Place in individual bowls, top each with 1 Tbsp sour cream and sprinkle with 1 Tbsp minced scallion and serve hot.