Chickee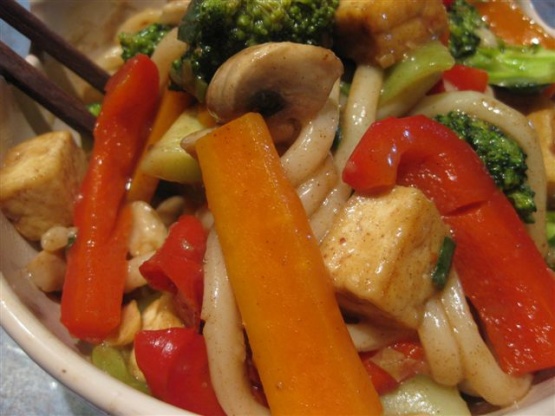 This is from Goodhousekeeping. We love it because it use fresh or frozen broccoli and adapts well to what ever is in seson. We also like to cut the water/chicken stock to make a really thick sauce.

I liked the look of this as it's basically how I make stir fry anyway. I added some carrots as they weren't listed in the ingredients but were in the method?? I don't know what the other reviewer means by tofu producing water, perhaps tofu is different in Australia because mine was fine and dry after frying. Vegetable oil is not listed as an ingredient either? I used a non stick wok so not as much oil was required but I kept some of the sesame oil and added it at the end for flavour. I also found I needed to increase the ginger, and added a teaspoon of Chinese Five Spice and some dry sherry. With these additions it was outstanding. Cheers!
In 2-cup measuring cup, combine broth, soy sauce, brown sugar and cornstarch, until well-blended.
In nonstick 12-inch skillet, heat sesame oil over medium-high heat. Add tofu and cook, stirring frequently (stir-frying), until heated through and lightly browned, about 4 minutes. Transfer to bowl. Add red pepper, green onions, garlic, and ginger to skillet and stir-fry until vegetables are tender-crisp, about 3 minutes longer.
Add mushrooms and stir-fry 3 minutes. Add broth mixture and tofu and stir-fry until sauce has thickened slightly and boils, about 3 minutes.