Callan54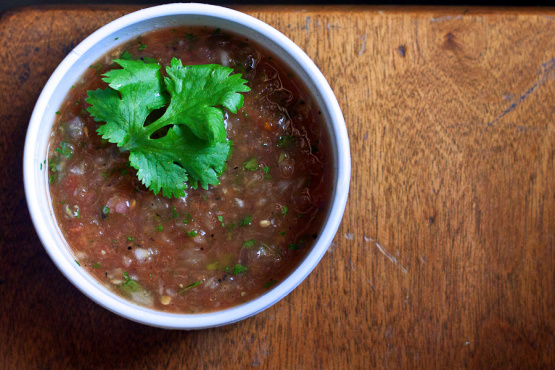 I got this from the recipe for Chevy's salsa, but have tweaked the ingredients to suit my taste. This version is a little more vinegar and garlic heavy than the original.

This recipe had so much potential! I think it would have been much better if it didn't call for as much cilantro as it did. In contrast to other salsa recipes, it calls for AT LEAST 10 times more cilantro! Money wasted :(
Place the tomatoes on a grill at medium heat, turning every 4 minutes to char all sides. About halfway through, place jalapenos on the grill and do the same. Once the skin has been blackened and is peeling from the tomatoes, place on a plate and set aside to cool.
In the meantime, place quartered onion, garlic cloves and cilantro into a food processor and pulse until everything is about the same size chunks. Place in a bowl, and add the rest of the ingredients.
Once the tomatoes and jalapenos are cooled, slice the jalapenos open and remove the ribs and seeds completely for mild salsa, halfway for medium, or not at all for hot. Remove some of the blackened charred skin from the tomatoes (it's probably mostly peeled back by now). Put all the cooled veggies in the food processor and blend.
Combine with the rest of the ingredients and chill. Flavors will develop and salsa will be ready to serve within a few hours.