Best Roast Pork I've Ever Eaten
tuyop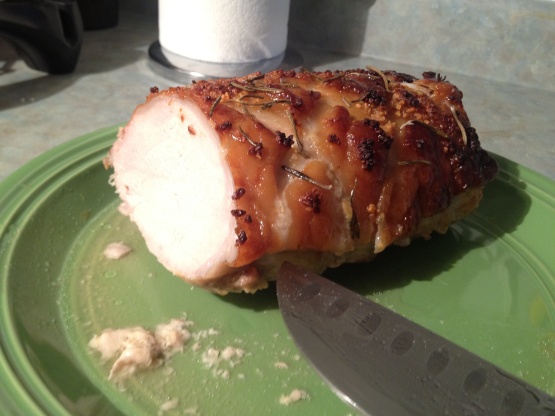 This really is the best pork roast I've ever eaten. I use fresh rosemary from my herb garden but dried will work. Even though the Marsala is optional, it's just not the same without it, in my opinion.

This was very good, however I made a few adjustments. I added thyme, salt and pepper along with the garlic and rosemary. I seasoned the whole roast first then poured the honey/mustard mixture over it. I only roasted until the temp reached 155 deg. then removed the meat from the roasing pan and set it aside to rest, I then put the roasting pan on top of the stove and deglazed it with 1/2 cup of the marsala, let that reduce then added 1/2 cup of chicken stock, a tablespoon of butter, salt and pepper. It was very yummy! Thanks for sharing!
Preheat oven to 400 degrees.
Place pork roast in a shallow metal pan.
Combine honey and Dijon mustard.
Coat top and sides of roast with this mixture.
Sprinkle garlic powder and rosemary over entire coated surface.
Roast meat for 15 minutes at 400 degrees, remove from oven and add 1/3 cup water to the bottom of the pan.
Reduce heat to 325 degrees and roast meat for 35 minutes per pound or until meat thermometer reaches 175 degrees.
Check roast occasionally and add a little more water to pan to keep honey drippings from scorching.
When meat is done, remove from oven and place on carving board.
Scrape pan and pour juices into a saucepan.
Add 1/2 cup water, 1/2 beef bouillon cube, salt and pepper to taste.
Add Marsala, if desired, and simmer long enough to cook away the alcohol smell.
Combine cornstarch and 3 Tablespoons water, add to sauce and cook until thickened.
Slice pork roast and serve with sauce.