ImPat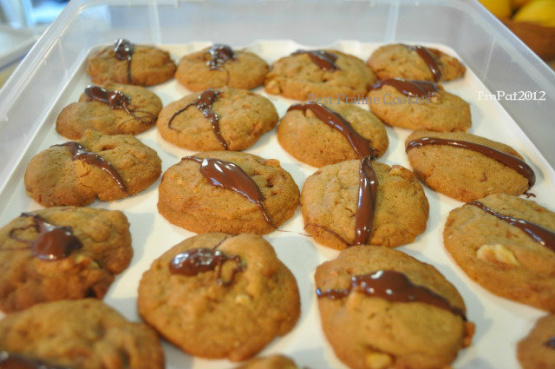 The crushed nut brittle in these cookies makes them different and delicious. Make then any time you want a yummy treat.

Top Review by ImPat
What a resounding success these where at the DS's supported work place where they held an Australian Big Morning Tea to raise funds for cancer research. I got 84 cookies from the mix and used 3 oz chocolate for the drizzle. I baked the first test batch at 170C fan forced for 12 minutes and they were a little overdone, so lowered the temperature to 160C and baked for 10 minutes and they were perfect. I did have some of praline leech from some of the cookies so may not of cooked the sugar water quite long enough but it is the first time I had made it and it seemed the right colour. All I got back was an empty container, thank you Annacia, made for photo tag.
Grease a large baking sheet with butter; set aside.
Stir together the 1/3 cup granulated sugar and water in a heavy medium saucepan. Cook and stir over medium-high heat until boiling.
Cook for 2 -/2 to 3-1/2 minutes more or until syrup is a deep golden brown. Remove from heat.
Stir in nuts. Immediately pour onto the prepared baking sheet.
Cool completely on a wire rack until firm.
Transfer the firm praline to a heavy plastic bag.
Using a rolling pin, crush the praline into small pieces; set aside.
For cookies, beat the 1 cup butter in a large mixing bowl with an electric mixer on medium to high speed for 30 seconds.
Add brown sugar, the 1/2 cup granulated sugar, and baking soda; beat until combined, scraping sides of bowl occasionally.
Beat in eggs and vanilla until combined. Beat in as much of the flour as you can. Stir in remaining flour and crushed praline.
Drop dough by rounded teaspoons 2 inches apart onto an ungreased cookie sheet.
Bake in a 350 degree F oven for 13 to 15 minutes or until edges are lightly browned. Cool on cookie sheet for 1 minute. Transfer to wire racks and cool completely.
Drizzle melted chocolate over cookies.