Best Peanut Butter Layered Brownies
Pamela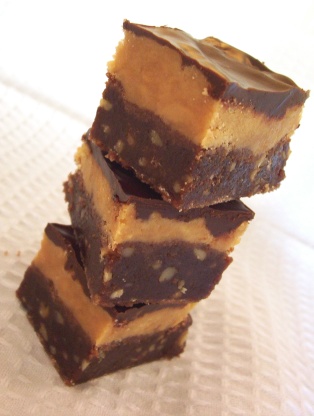 Do you want a rich wonderful brownie, then here it is! It has a wonderful layer of peanut butter. My family goes goo-goo over this one. I hope yours does too!

these brownies tasted really good.the only reason i gave this 4 *'s is i couldn't get the peanut butter layer very thick.i'm not sure what did wrong.better luck next time and there will be a next time.thanks for posting.
Brownie Layer.
Preheat oven to 350°F.
Microwave unsweetened chocolate with 3/4 butter on high for 1 1/2 minutes.
Stir till chocolate is completely melted.
Stir granulated sugar into melted chocolate.
Mix in eggs and 1 1/2 teaspoon vanilla; blend well.
Stir in flour and walnuts.
Spread into 13x9-inch greased pan.
Bake 30 to 35 minutes.
DO NOT OVER BAKE.
Cool.
Peanut butter layer:.
Mix peanut butter, 3 tablespoons butter, powdered sugar and 1/2 teaspoon vanilla in another bowl.
Blend till smooth, adding up to 1/4 cup of milk to make it a nice spreading consistency.( You may need more milk to make it spreadable, this part can be a little difficult, if the peanut butter does not spread easily, make sure you dip your spatula in water. Sometimes I even have to sprinkle alittle water on top of the peanut butter to smooth).
Spread over the cooled brownies.
Top Layer:.
Microwave semisweet chocolate for 1 1/2 minutes with the 1/4 cup butter.
Stir till smooth.
Spread over peanut butter layer.
Cool until set.