Best of the Best Fried Rice
B.A.B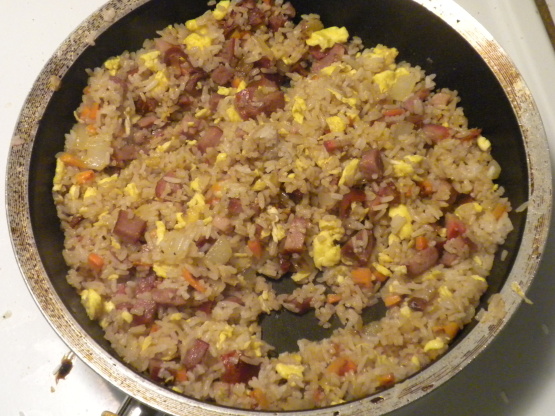 This recipe is made by following parts of the instructions for making several of the top fried rice recipes on RecipeZaar. I created this recipe so that I would have an easy to make, simple ingredients fried rice recipe that was also super tasty and I believe that is exactly what I have here. I hope you enjoy as much as I did.
Heat 1 Tbs. oil in large skillet.
Add onion, celery and carrot.
Saute until onions are transparent and carrots are crisp tender, about 5 minute.
Push veggies to one side of skillet and scramble eggs in empty side.
Mix eggs and veggies together. Set aside.
Heat 1 Tbs. oil in skillet over high heat until very hot.
Add cold rice to skillet and stir well.
Add chicken broth to skillet.
Stir fry rice, stirring constantly, until all liquid is gone.
Add meat to skillet and cook for about a minute more.
Add egg and veggies to skillet.
Stir in soy sauce and heat until warm.