SharonChen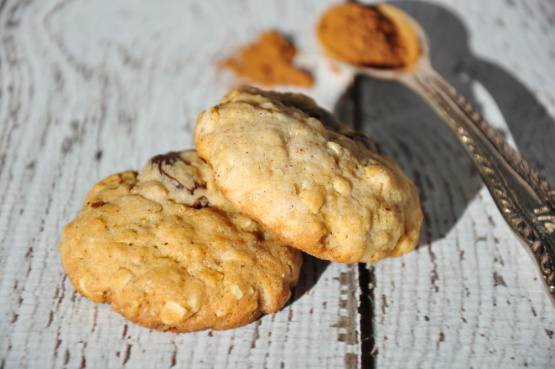 This is a family favorite that I have been making for years. It's the most requested oatmeal cookie recipe I've ever made. I found it somewhere years ago, but have lost the source. The secret is soaking the raisins which makes all the difference.

Delicious cookies! My daughter and I made these together this afternoon. I found the directions to be very accurate - even down to the number of cookies. I used a small meatball scooper to measure and came up with exactly 72 cookies. They hold their shape well while baking - not much spreading at all. The raisins stayed moist and plump - I liked the unique method of pre-soaking them. On a personal note, I am so happy that Merrie shared this recipe online- I am part of the family mentioned in the description, but since I live very far away, I don't often get a chance to taste her yummy dishes. Thanks for sharing the recipe!
This is a very important first step that makes the cookie: combine eggs, raisins and vanilla and let stand for one hour.
Cream together butter and sugars.
Add flour, salt, cinnamon and soda and mix well.
Blend in egg-raisin mixture, oatmeal, and chopped nuts.
Dough will be stiff.
Drop by heaping teaspoons onto ungreased cookie sheet, or roll into balls and flatten slightly.
Bake at 350 degrees for 10 to 12 minutes or until lightly browned.