Best Monte Cristo Sandwich
ChefLee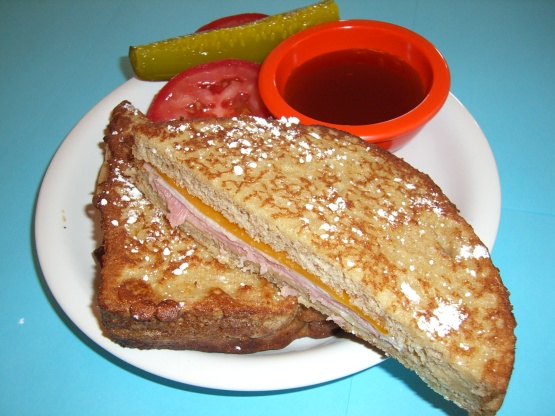 This is my one of my son's most requested recipes, though all my kids love it! We serve it with warmed, real maple syrup for dipping. We tried 4 or 5 recipes before combining a few to come up with this one, now nothing else will do!

wonderful, easy and very, very tasty
Assemble four sandwiches using bread, meats, and cheeses. Set aside. In medium mixing bowl (I use a square casserole dish), combine egg, water, milk, salt, sugar, flour, baking powder & mustard. Beat well. Heat about 1" of oil in deep skillet (I use a large iron skillet). Dip your sandwiches into the coating mixture, I like to get them well soaked. They will be drippy -- try to drain off a bit, carefully slide into the hot oil. Repeat with remaining sandwiches. When nicely browned, gently flip over & brown other side. Remove to paper towels. Sprinkle with powdered sugar. Let cool a few minutes before cutting so the cheese doesn't ooze out. Cut each sandwich into four fingers for easy dipping. Serve with syrup or jam.