Best Marinated Veggie Kabobs
Pamela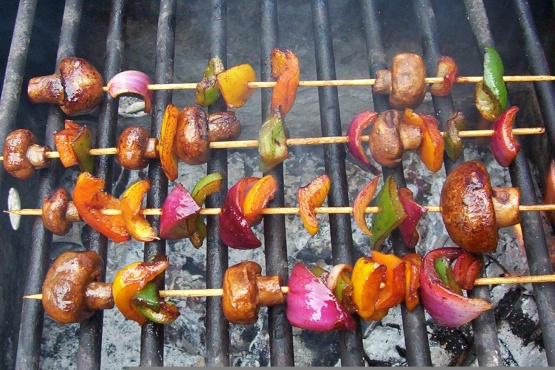 Having kabobs? Use this marinade on your favorite vegetables and Teriyaki Marinade. (Teriyaki Marinade) on your beef then grill! What a winning combination!

If Barbara says that something is the best in the title of her recipe, believe her. These are the best! The ginger adds a wonderful taste to the marinade. I also added in a little paprika, the Hungarian in me won't leave it out of anything. I also used the marinade on bits of chicken breast, and they are also the BEST! Thanks for such an easy and good recipe. This is also a great recipe for Somersizing!
vegetables, of choice (peppers of a variety of colors, mushrooms, onions, broccoli flowerets, zucchini... whatever)

Marinade

1⁄2 cup oil
1⁄2 cup lemon juice
1⁄2 cup soy sauce

1

tablespoon fresh sliced ginger
The night before, cut vegetables into bite-sized chunks.
Soak skewers overnight in water.
Marinade veggies overnight in airtight container in fridge.
Skewer and grill over hardwood or charcoal fire.