Best Lemon Cheesecake Ever (Sour Cream Cheesecake)
mayocum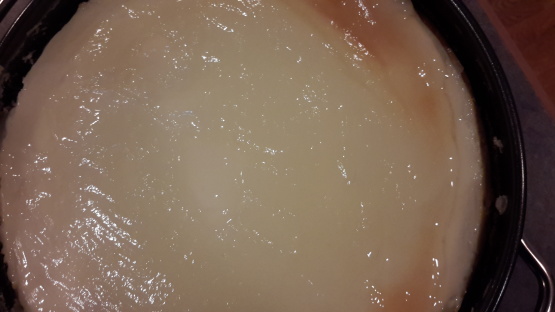 I really love cheesecake and this one is very good.

Top Review by MarlaM
Best cheesecake ever! I didn't have a spring form pan, so I used a 9x12 pan. I also didn't think it cooked thru after the time recommended, so I cooked it an additional 15 minutes, then I worried I had over cooked it, but it turned out perfect. Thank you so much!
Preheat oven to 350°F.
Using your hands or the back of a spoon, mix all crust ingredients in a bowl until well combined.
Press into bottom of an 11 to 12-inch spring form pan.
Bake for 5 minutes.
Let cool; refrigerate until needed.
Using an electric mixer, beat cream cheese at high speed until completely smooth.
Add eggs one at a time, beating until smooth after each addition.
Beat at medium speed as you gradually add the sugar, then flour, lemon juice and 1 teaspoon vanilla, mixing until well blended.
Stir in lemon zest.
Pour into crust; bake at 350°F for 35 minutes.
Blend sour cream with remaining teaspoon vanilla and 3 tablespoons sugar; set mixture in warm place.
Remove cake from oven, and gently spread sour cream mixture on top.
Return to oven and bake for another 12 minutes.
Cool on rack for 30 minutes.
Refrigerate until topping is cool, but not completely chilled.
Combine all glaze ingredients and blend until smooth.
Bring to a boil, stirring constantly until thickened (3 minutes).
Chill until cool, but not set.
Spread on top of cheesecake.
Chill overnight.