Yia Yia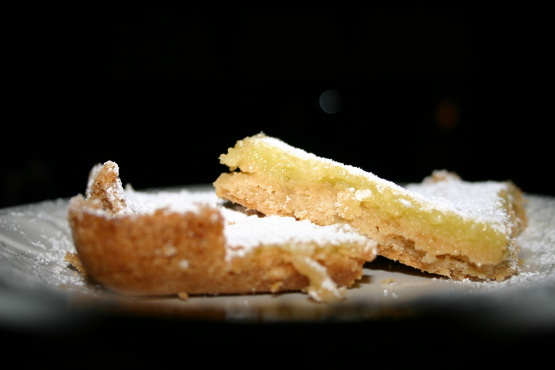 This recipe comes from Gourmet Magazine. It is very simple and delicious.
Like Junebug, I found these to be good and easily made with normal ingredients. I did make a few adjustments. Those were to half the recipe and make in an 8z8 pan, added a little extra sugar(1 1/4 cups-recipe halved-but still found it to be a little tart for my taste), used bottled lemon juice instead of fresh, and used margarine instead of unsalted butter and omitted the salt in the crust. Also, I didn't use my food processor, just cut my butter, flour, and sugar with a pastry blender. Thanks for sharing your recipe, seahorse73!
Shortbread Base:Preheat oven to 350 degrees.
Cut butter into 1/2 inch pieces.
In food processor, process all ingredients until mixture begins to form small lumps.
Press mixture evenly into 9x13 baking pan.
Bake in middle of oven until golden, about 20 minutes.
While shortbread is baking, prepare topping.
Topping: In bowl whisk together eggs and granulated sugar until combined well.
Stir in lemon juice and flour.
Pour lemon mixture over hot shortbread base.
Reduce oven temperature to 300 degrees and bake in middle of oven until set, about 30 minutes.
Let cool completely in pan then sprinkle with confectioner's sugar.