Best-In-The-West Berry Cobbler
Tina C.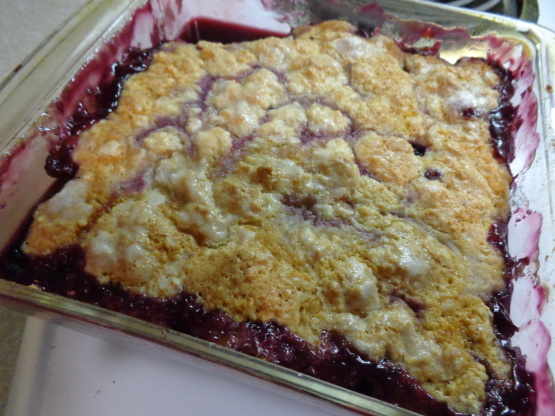 The name says it all! It has a delicious sugar crackle topping that forms by pouring the boiling water over the top before baking. This is my favorite cobbler recipe. Easy, impressive, and versatile. Can use any combination of berries, frozen or fresh.

I have tried several other top rated cobblers and this one is by far the best! The only changes I made were using butter instead of shortening, adding 1tsp of lemon zest and 1tsp vanilla to the batter. Thanks for the great recipe!
Spread berries in a greased 8 inch square pan.
Cream shortening and 3/4 cup sugar well.
Sift flour, baking powder, and salt together.
Add alternately with milk to creamed mixture. Batter will be thick.
Spread batter over berries.
Combine remaining sugar and cornstarch together then sprinkle evenly over batter. *NOTE* This is a juicy cobbler but if you want the berries and sauce to be thicker add an extra 1/2 to 1 tablespoon of cornstarch to the remaining sugar.
Pour boiling water over all. Do not mix.
Bake at 350* for 30-45 minutes, until golden brown and toothpick inserted into middle comes out clean. Serve warm or at room temperature with whipped cream or ice cream if desired. (Doubled recipe fits into a 9x13 pan, but must bake 20-30 mins longer than normal).