Gingita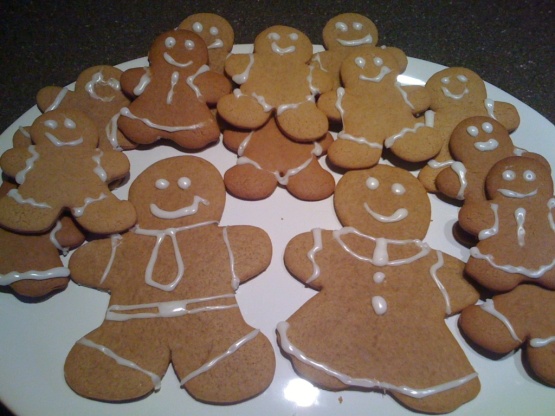 These are the best gingerbread men I've ever made, and they are easy to roll and cut out (and I hate making cut-out cookies!) We like to use decorating candies prior to baking.

I wasn't impressed. I guess the main reason we didn't like them was that they didn't taste like gingerbread men. They weren't spicy enough. If I try this recipe again then I'll be adding more spices, but I will probably just use another recipe instead.
Cream margarine and sugar together. Add egg and mix. Add molasses and spice and stir well.
In a separate bowl, combine flour, baking soda and salt.
Add flour mixture to creamed mixture a bit at a time. Stir after each addition.
Turn dough onto floured surface and knead a couple of times to make sure it is well mixed.
Divide dough in half, wrap half in plastic wrap and set aside (I put in the refrigerator).
Roll out half the dough on floured surface with floured rolling pin to about 1/4-inch thickness.Cut with floured gingerbread man cutter.
Place 1/2-inch apart on ungreased cookie sheet.
Decorate with candies now or wait until cookies are cool and decorate with frosting.
Bake at 325 degrees for 12 minutes or until edges are slightly browned.
Remove cookies to wire rack to cool.
Store cookies tightly covered for up to 2 weeks.