Parsley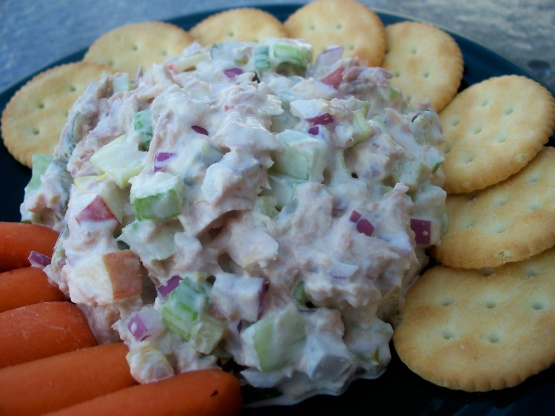 To be honest, I am not known for my great cooking but this is a dish even my son loves. Sometimes my husband even eats it for breakfast! It's so simple, just a few ingredients mixed together and you're done!

Top Review by Merlot
Thank you so much for trying one of my recipes (Green Breans with Cherry Tomatoes). I am so glad you enjoyed them. Whenever someone tries one of my recipes, I like to return the favor by trying one of their recipes. So I decided to try this one and boy am I glad I did. This is fabulous!!! We loved the chopped apple in this tuna salad. It added a nice texture and lovely sweetness. Thanks so much for sharing this recipe, ellison52, and again thanks for trying one of my recipes.
1. Empty tuna and packing water into a bowl. Break up the tuna until it is in fine shreds.
2. Add the rest of the fruit and vegetables and mix well.
3. Add mayo and pickle juice and you're done!
Mixture should be nicely damp, Perfect for sandwiches or crackers!