Best Ever Summer Strawberry Spinach Salad
Thorsten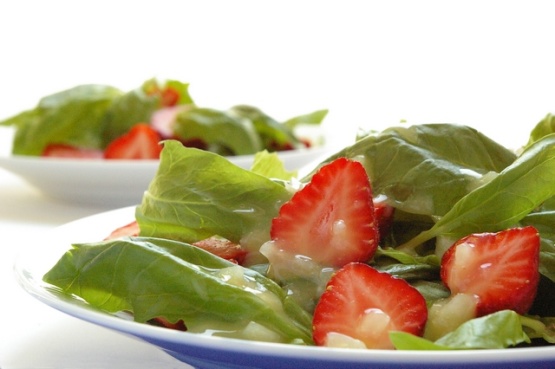 This is a very simple and delicious salad to make, especially in the summer. My family does not like spinach very much, but they love this dish. Also great to take to pot luck or church dinners as it is a "different" salad. The secret is to find the pale green fresh baby spinach leaves as opposed to the larger, tough, dark green ones in a bag! Hope you enjoy it as much as we do!

I really liked this salad, but when I looked at the recipe it seemed like it needed something more than just lettuce and fruit. So when I made this for a main dish for dinner the other night, I used mandrin oranges, added slivered almonds, and half a sliced chicken breast on top. Turned out great. We also ate it with grilled pita bread. I wasn't sure about the dressing at first, but it came out really good. My husband insisted we add it to our collection.
DRESSING:.
Beat together egg and vinegar Put in a small pot and simmer, stirring well.
Continue to simmer, add sugar and onion and cook for 5 minutes.
Stir occasionally.
Chill in fridge for 1 hour.
Wash and drain baby spinach leaves and romaine lettuce well.
Place in large salad bowl.
Pour chilled dressing over salad and add strawberries or mandarines on top.
Mix well.
Prep time does not include refrigeration.
If you are low carbing -- use Splenda in place of sugar, and strawberries, no oranges.