Best Ever Rich Chocolate Fudge Cake
Julie G.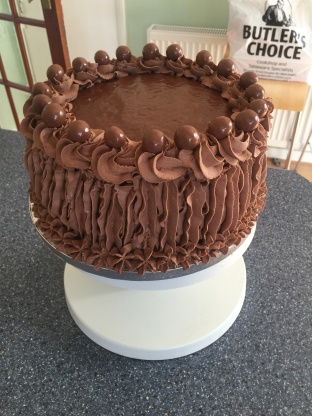 I have seen many fudge cake recipes, but I believe this one takes the cake *heh* because of the sour cream & brown sugar. It is rich and if you love cake you will think you died and went to heaven! 8)
Preheat oven to 350°.
Grease and flour 3 9-inch cake pans.
In a large mixing bowl, cream the butter until smooth.
Gradually pour in the brown sugar, then eggs.
Beat with mixer until light and fluffy, approx 5 minutes.
On low speed, beat in the vanilla extract, melted chocolate, baking soda and salt.
Add flour alternately with sour cream, beating at low speed until smooth.
Pour in boiling hot water and stir until blended.
Pour into the prepared pan.
Bake about 25 minutes or until done.
Remove from oven, let cakes cool about 10-15 minutes, then place on wire racks.