Parsley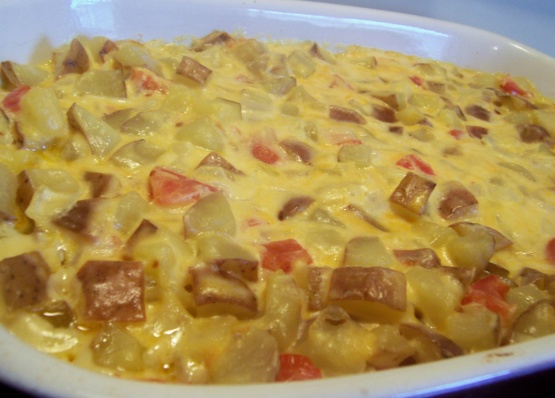 Two kinds of cheeses and sour cream make these potatoes winners for any potluck, BBQ or family night dinner.

This recipe is a great begining to the best potatoes. DH did not like them, DD and myself thought the tomato was the deal breaker for us. I didn't measure the ingredients. I used about 7 small potatoes and diced them, a spoonful or two of sour cream and a mixture of cheddar cheese and some colbyjack that I already had shredded in the fridge from another night. i did toss in a few Tbsp of real bacon bits and I used a pinch of cayene pepper because I didn't know what ground red pepper was supposed to be. I added a little bit of garlic powder also. I think this would have been great without the tomatoes. thanks for sharing
In a large saucepan cook potatoes and chopped onion, covered, in a small amount of boiling water for 12 to 15 minutes or until tender; drain well.
Stir in sour cream, Monterey Jack cheese, cheddar cheese, salt, and red pepper.
Stir in chopped tomatoes.
Spoon into a 2-quart rectangular baking dish.
Bake, uncovered, in a 350 degree F oven about 30 minutes or until heated through. Makes 10 servings.
To Tote:
Cover tightly. Transport in an insulated carrier.
For 4 to 5 Servings:
Prepare using 1/2 the amount of ingredients and the method above, except spoon into a 1-quart casserole.