Best Ever Peanut Butter Fudge
GBandMe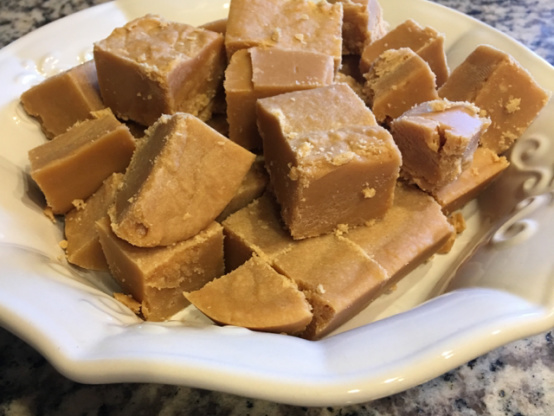 Peanut Butter lovers, this is perfect for you. Very rich flavor. Can't stop eating.....

Yummy! Made this just as the recipe states. Used a jar of crunchy Marantha natural peanut butter and it worked very well. I can't help using a candy thermometer, and was pleasantly surprised when the mixture reached 234 degrees in almost exactly 4 minutes! Overcooking the mixture will give a grainy or crumbly result, so I'd encourage those of you trying this recipe for the first time NOT to overcook. This recipe uses marshmallow cream which ensures a smooth product, but it does take away a bit from a strong peanut flavor. Still, I wouldn't change a thing. Thanks for sharing the recipe!
Grease 9X13 cake pan.
Mix sugar, evaporated milk, and butter in pan.
Stir constantly over medium heat.
Bring to a full boil and stir for 4 more minutes, or until a candy thermometer reads between 234 and 240 degrees F (112 to 116 degrees C), or until a small amount of syrup dropped into cold water forms a soft ball that flattens when removed from the water and placed on a flat surface.
Remove from stove and stir in peanut butter, vanilla, and marshmallow cream.
Spread evenly into pan and chill in fridge until firm.
Enjoy!