Best Ever Peanut Butter Cookies
Rita1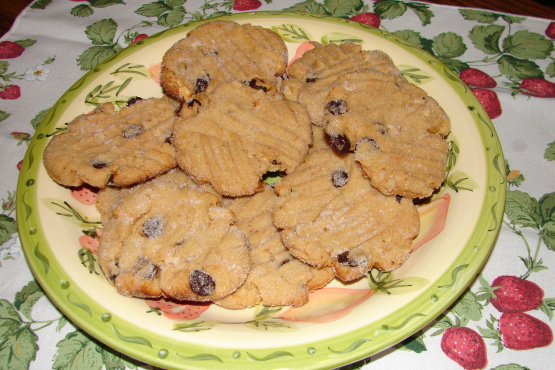 These are the best peanut butter cookies I have ever eaten. They are soft and chewy. They are great when you add the nuts and chocolate chips. Whenever I take these cookies to a potluck or family get together, people always request that I bring these cookies. I got this recipe out a cook book a number of years ago. I have changed the recipe slightly from the original.

These are the best cookies I've ever had!!! I've made them for 2 years now and everyone always requests them!!! Even my fiance who hates sweets loves them! I am allergic to eggs and always on the lookout for great egg-free recipes!!!! Thank you very much Rita!!!!!
Preheat oven to 375°F.
In large bowl, beat sweetened condensed milk and peanut butter until smooth.
Add biscuit mix and vanilla; mix well.
Shape into 1-inch balls.
Roll in sugar.
Place 2 inches apart on ungreased cookie sheets.
Flatten with fork.
Bake 8 to 10 minutes or until golden brown.
Cool.
Store tightly covered at room temperature or freeze for future use.
For chocolate peanut butter cookies, add 1/4 cup cocoa and a dusting of cinnamon to the batter.