Best Ever Ozark Baked Beans
GaylaJ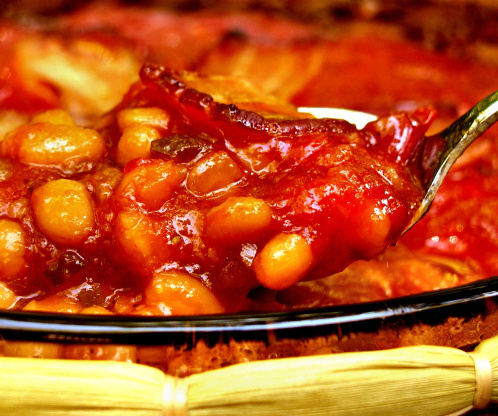 This recipe comes from a lot of testing for just the right flavor. Contains sweet pickle relish! It really adds to the taste. It's an old family favorite.

This is a fabulous recipe! I had never made baked beans before (really any bean dish), but thought I would give this one a try. After one false start in preparing dried beans, I made this recipe starting with dried kidney beans. This was truly one of the best dishes I've tasted, let along made. The flavor was delicious. I omitted the bacon and will probably do so again, but I don't think it diminished the taste. This is a recipe you truly have to taste to really understand ~ words can't do it justice! Thanks for posting!
Preheat oven to 325 degrees F.
Spray casserole dish lightly with cooking oil.
In mixing bowl, combine beans, 1/2 cup catsup, mustard, bouillon, relish, onion, green pepper and brown sugar/molasses.
Mix well.
Add black pepper and Tabasco sauce to taste.
Pour into casserole and top with remaining ketchup and bacon slices.
Cover and bake for 50 minutes to 1 hour.
Remove foil and increase oven to 350 degrees F.
Bake an additional 30 minutes.